Garage48 GameDev & Gamification event in Riga
The fifth season of Garage48 hackathon series ended with the first ever #Garage48 GameDev & Gamification event in Riga. The 90 participant crowd pitched 27 ideas and build 15 prototypes. The best showed top-notch execution using brand new technologies. The Winning team @Snowy_Birds built the first OculusRift based app in Garage48 history, while the Runner-up Eclipse presented a video game build using stop-motion videos. The mentor and jury ranks were topped by folks from big time gaming companies like Rovio and GameInsight.
The halls here at the Stockholm School of Economics in Riga were buzzing with ideas and excitement (and energy-drink-filled participants)e projects that attracted the needed team members, marked underneath in bold. Garage48 seasoned mentor Martin Gruner noted that like always, the technical execution of the projects didn't disappoint in Latvia. The combination of excellent technical knowhow and just plain ingenuity like taping a leap motion to Oculus Rift made for some of the most fun projects in Garage48 events he had seen!
Meet the teams:
WINNERS
SnowyBirds: Oculus Rift and Leap Motion based snowball fight game. Win the birds in a snowball fight!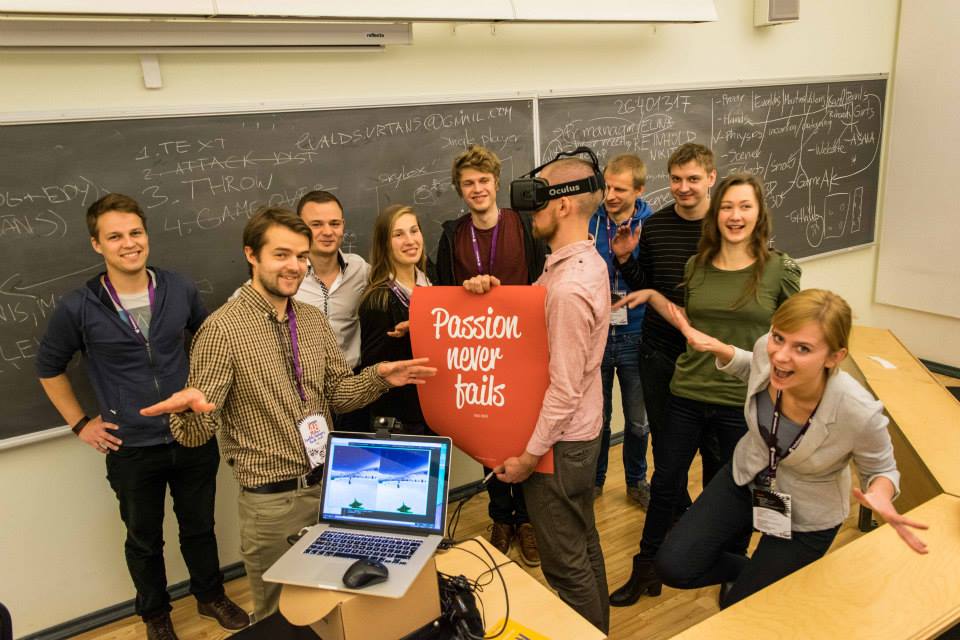 FB: https://www.facebook.com/pages/Snowy-Birds/1512896275655643
Twitter: https://twitter.com/Snowy_Birds
Team:Rihards, Ģirts, Nikita Pusnakovs, Maria Roosiaas, Karl Aleksander Kongas, Vaļuks Malnovā, Mārtiņš, Karīna, Evalds Urtans, Pāvils, Valērijs, Reinholds Pīrāgs and Elīna
1ST RUNNER UP
@TECHHUBRIGA SPECIAL PRIZE

Eclipse - post apocalyptic game with all animations done using stop-motion. "Feel the post-apocalyptic-esque atmosphere of being in completely desolated world. Where you take the role of Kri, the last sane member of nomadic warriors clan. He is there to fulfil his last duty: bring his fellow brothers from never ending oblivion. The oblivion that was brought by Eclipse."
Web: http://eclipsegame.azurewebsites.net/
Twitter: https://twitter.com/GameEclipse
Team: Martins Bratuškins, Toms Burāns, Marks Bogdanovs, Vladislavs Kolontajs, Nauris Āboliņš, Arvīds Kokins, Jānis Delveris
2ND RUNNER UP
@MICROSOFT SPECIAL PRIZE & @DRAUGIEM SPECIAL PRIZE
Bee Or Not To Bee Tower defence game. Honey and bees theme. Game is easy to play and you must think to stay alive.
FB: https://www.facebook.com/LudumDareRiga
Team: Jurģis Zālītis, Zita Škrabe, Eduard Ruzga, Valērijs Kočetkovs, Pēteris Lauris andVadims Vorobjovs
@RUBYLIGHTFUND SPECIAL PRIZE
Piece of Shirt is an endless running action arcade for people who love challenging games. PoS is the first of a kind one finger game, which allows you to jump, avoid obstacles and destroy enemies with one gesture - a tap.
FB: https://www.facebook.com/PieceOfShirtGame
Twitter: https://twitter.com/Piece_Of_Shirt
Team: Elviss Strazdiņš, Māris Bunkovskis and Linda Gendrika

Miscreations is an experimental rogue-like game in which you fight a randomly generated boss.
Web: https://www.facebook.com/monsterotheweeknextlevel
Team members: Andrejs Kļaviņš, Mārtiņš Ceplis, Kristaps Peļņa, Ernests Kļaviņš and Artūrs Lācis

Mousetrap a 2D Time-Based Combat-Based Survival game.WHY - Because we're passionate about it and we believe that the video game industry could benefit from our game. FOR WHO - Hardcore, mid-core and casual gamers.
FB: https://www.facebook.com/profile.php?id=100008521186094&fref=photo
Team: Juris, Ivars, Kristofers and Matīss

Galaxy Protector Our Earth is facing an unexpected attack from Aliens. Our entire Galaxy is in a big danger and you have to save the humanity from destruction. Unfortunately you do not have any strong weapons to counter the Alien lazer beams. Choose your weapon wisely. Be careful, the time is limited!
Web: http://galaxyprotector.cloudapp.net/
FB: https://www.facebook.com/pages/Galaxy-Protector/1005077462851124
Twitter: https://twitter.com/ProtectorGalaxy
Team: Romans Stepanovs, Maksims Moisja, Inga Rozentale, Siim Uhtjärv and Elza Ozola

Battle of the states Hello fighters! Join Battle of The States game to make YOUR state (region, kanton, province) win the first place in your country! Meet new people and fight together for your regional pride in the soon to be world's most popular game!
Web: www.battleofthestatesapp.com
FB: https://www.facebook.com/pages/Battle-of-The-States/824134820979875
Twitter: https://twitter.com/BattleOfTheStat
Team: Raivis Vitols, Dmitrijs Shitovs, Arturs Lataks - DevOp, Konstantins Zukovs - DevOp, Rolands Jermolaevs - QA, admin support, Antons Sapriko - game design